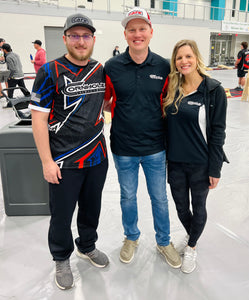 Talking Stalk with ACL Pro Josh Holland
Thanks for joining us for our FIRST interview! Some may be short and some may be longer than others. These may be weekly or come in at random, but be sure to check back frequently as we will be doing more sit downs and one on ones with other pros and some cornhole fanatics. Most importantly, read till the end to find out something you may not have known!
Starting out, we have the ONE & ONLY ACL Pro - Josh Holland!
Josh is in his rookie season as an ACL pro, but had a ton of success playing as a pro in the American Cornhole Organization (ACO) the past few years. This year we have the pleasure of sponsoring Josh and watch him compete against some of the best players in the world, hoping to make it to the main stage come August in Rock Hill, SC.
Anyone that knows Josh personally knows that he is not one to talk your ear off. Honestly, we believe this is what kept him under the radar for as long as it did. This interview was a chance for him to share some of what goes on inside his head!
Q1.What is the best "cornhole" advice you've received as you were preparing to become an ACL pro?
A1. Josh responded quickly with, "You cannot be scared and have no time to get down on yourself. You must stay confident in yourself and always go for the win!"
Q2. What is some advice you would want to give to someone who dreams of one day being in the pro circuit along side of you?
A2. After a long moment of silence, he laughed and said, "If you want to be a pro, don't think you can miss the hole all that often! Also, it is not going to come to you overnight so you'll need to PRACTICE, PRACTICE, PRACTICE!"
Q3. What is the most popular question you get asked since becoming a pro cornhole player?
A3. "There are 2 questions that seems to be asked all the time. The first one that comes to mind is people always want to know how I can consistently keep by bag so flat when throwing, as well as how did I develop such a smooth throw."
Q4. Tell me about your bag choice as well as your path to get there?
A4. Josh laughed and responded with quite the story. "It started with Reynolds bags several years ago, I mean that's what everyone was throwing around me so it was easy to join in on that. Over the span of a few years, I switched to Scoreholio bags and then to Lucky bags. I did pretty well with Scoreholio, but wanted to see what Pro Snipers/Surefires were all about so I traded around to be able to try them out. Long story short, they were not for me. Around that time a buddy of mine let me throw his Cornhole Scenario Cat 3s and I threw them really well. In fact, within a week of owning my first set of Cat 3s, I won my first ACL Open as a non pro and never looked back. Now, Cornhole Scenario bags are the only bags I throw," he said with a ton of confidence!
Q5. Your pro career is still very young, but can you talk to me about some of your favorite moments or experiences so far?
A5. After thinking long and hard he says, "So far some of the best moments have come against the top players in the world. One of the more memorable being last year against Trey Burchfield. They call him "The Robot" for a reason. Knowing him and his reputation it a was great feeling to say I beat a top player. Since then, I've been able to beat him 6 more times and only lose 3 games against him. He really is a great competitor and we always have a great time playing!"
Josh is a true competitor and a student of the game. Being that his professional cornhole career only started a few years ago, he is enjoying the experience as well as all the other players he is meeting along the way.
Holland, holding his Cat 3s after his first ACL Open win back in early 2021
**Something most people don't know about Josh is that he went to college for HVAC, not to mention he is EPA certified. On top of that, the guy loves his video games and probably spends a little too much time playing them!
Thanks for reading, we hope you all enjoy!
Check back for PART 2 with Josh later on. Next on the list we will have another ACL Pro joining us! Stay tuned!
- Team Cornhole Chemistry
---
1 comment