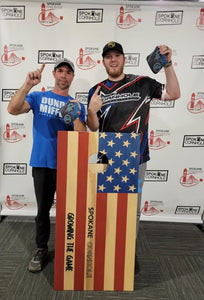 Talking Stalk with Justin Carpenter, Cornhole Pro
We sat down with Cornhole Pro Justin Carpenter recently, to ask him a few questions about cornhole and how he got started, as well as some things outside of cornhole that others may not know about him. Read below to learn a little more about Justin, and the advice he offers to those interested in joining the cornhole pro community.
Justin is in his rookie season as an ACL Pro, but has quickly progressed through the stages within the American Cornhole League. This year were able to sponsor Justin and get to watch him compete against some of the best players in the world. With his FIRST EVER National under his belt, he is ready to carve out his name amongst some of the all-time greats.
If you've seen Justin play, chances are you've seen him wearing either a hoodie, a beanie, or possibly both. The guy plays comfortable! Headphones on and and standing taller than most competitors, he is hard to miss. Keep an eye out for him this season!

Q1: Justin, you've been playing cornhole for several years now. What is it though that got you into Cornhole in the first place?
A1: I actually started a league at our local business, The Filling Station, before ever even playing the game. We began with about 12 people, and each week that multiplied. We now average around 54 people to date.
Q2: What is furthest that you have traveled in order to play Cornhole?
A2: The furthest I've traveled to play was to Jacksonville, FL. I went there to attend the first open I ever played.
Q3: When you play, do you prefer playing singles or doubles, or do you not have a preference?
A3: You know, I really enjoy going at the game as a team, so doubles would definitely be my preference if given the choice.
Q4: Let's say you're in the middle of a doubles game. What would you say would be your ideal scenario in playing?
A4: I'd say that having the perfect block set up, slightly on the opponents side, going over it on throws 2,3 and then pushing them all in on the final bag to complete the round. That would be ideal.
Q5: What would you say is the best advice you have received in playing?
A5: The best advice I've gotten was from a guy named Greg Cather. Greg told me to try to get a 10 every round so that you're never giving up more than 2. 
Q6: What is the best advice you would give to others that are looking to go pro?
A6: I'd say for anyone trying to go pro, don't focus on the standings or the numbers. I remember a saying my dad taught me, "everyone puts their pants on one leg at a time." Think of that, stay focused on your confidence and keeping it, and know that you can compete with the best. 
Q7: What is your bag of choice?
A7: My bag of choice is the ACL Pro Panthers.
Lastly, tell us something most people across the globe wouldn't know about you?
Justin: "I have a few actually. When I'm not playing cornhole, I'm a partner in running a local restaurant, which is my second job. As far as playing cornhole, I'm almost maxed out for regional points and its only the beginning of March."
Thank you, Justin for your time and sharing some things about you that others wouldn't otherwise know. Thank you to our readers for taking the time to view this article and get to know Justin Carpenter, Cornhole Pro, a little better.
Stay tuned as we continue to talk with other pros, players, and fanatics and add them to this blog. Join in on the fun! Let us know if there are any questions you would like to know. Simply message us on here using the messenger chat. Ya never know, your question may just get answered and posted here!
---